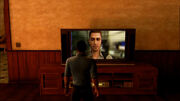 A television is found in every safehouse, allowing Michael Thorton to watch the news and video chat with his allies. The television also gives the secret agent a way to relax once he's away from his tasks.

Each Alpha Protocol Safehouse comes with an expensive wall mounted big screen TV (with the exception of the Saudi Arabia Safehouse, which has a different TV).
Ad blocker interference detected!
Wikia is a free-to-use site that makes money from advertising. We have a modified experience for viewers using ad blockers

Wikia is not accessible if you've made further modifications. Remove the custom ad blocker rule(s) and the page will load as expected.