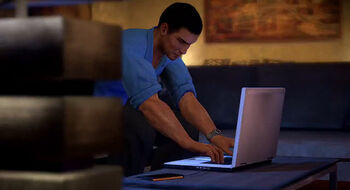 The Greece Safehouse is a hidden, unused Alpha Protocol Safehouse that Michael Thorton uses as a hideout when he is away from missions.
Thorton first arrives here after the events of Operation Desert Spear in Saudi Arabia. He makes contact with his handler, Mina Tang to discuss their options and plan what they're going to do. He also returns here once again, after finishing his work in Moscow, Rome, and Taipei.
This safehouse is smaller than the others, likely to keep from attracting attention. It comes fully furnished and decorated from the start, also housing Thorton's various personal items or trophies once he is situated here before his final strike.
This safehouse is only labeled as the Greek Safehouse in the aftermath of Saudi Arabia.
Mike only meets Mina in person for the second time here.
Ad blocker interference detected!
Wikia is a free-to-use site that makes money from advertising. We have a modified experience for viewers using ad blockers

Wikia is not accessible if you've made further modifications. Remove the custom ad blocker rule(s) and the page will load as expected.