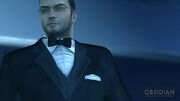 Formal Wear is an outfit of clothing worn by Michael Thorton during his mission to identify Jibril al-Bara. It is only worn during this one mission and is never seen again. Promotional screenshots and its existence in the game possibly indicates it would have been seen again.
This attire consists of a black tuxedo jacket and pants, a black vest, black dress shoes, a white shirt with white buttons, and a black bow tie.
Ad blocker interference detected!
Wikia is a free-to-use site that makes money from advertising. We have a modified experience for viewers using ad blockers

Wikia is not accessible if you've made further modifications. Remove the custom ad blocker rule(s) and the page will load as expected.